When tweeting an opinion is a fireable offence, media loses
Last week CNN fired one of its senior editors, Octavia Nasr, after she paid her respects in a tweet following the death of a controversial Lebanese Shia cleric.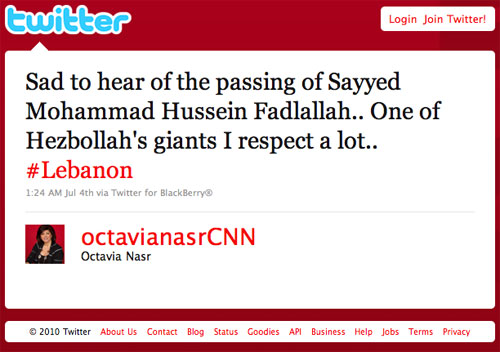 The cleric in question, Grand Ayatollah Sayyed Mohammad Hussein Fadlallah, has been associated with Hezbollah, which is deemed a terrorist organisation by most Western governments.
The tweet that cost Nasr her job read "Sad to hear of the passing of Sayyed Mohammad Hussein Fadlallah.. One of Hezbollah's giants I respect a lot.. #Lebanon."
She would later attempt to clarify and contextualise her tweet in a blog post, but Atlanta would have none of it.
The debate sparked by CNN's firing of Nasr can be found all over the web with some big-name journalists venturing an opinion. Lucky for them, they don't work for CNN. Many journalism schools still don't encourage students to form or express opinions. It's because journalists need to be objective, not takes sides, thus offering the complete story to readers so they can form their own opinion rather than have yours crammed down their throat.
Of course that is still how many view journalism, readers especially, and journalists have not done enough to update these views on our profession. Journalists often establish a personal voice in their writing. It breaks the monotony of blandness in news reporting that the information age is rendering pointless.
See the full story on Memeburn.com